Current + Upcoming Exhibitions
12/2/2017 – 1/28/2018
無垢と経験の写真 日本の新進作家 vol. 14, 東京都写真美術館
関連記事:東京新聞 <日本の新進作家 無垢と経験の写真>(下) 自然作用を印画紙に写す
Photographs of Innocence and of Experience – Contemporary Japanese Photography vol. 14, Tokyo Photographic Art Museum (Tokyo, Japan)
9/17/2017 – 10/12/2017
Perpetual Uncertainty, Z33 House for Contemporary Art (Hasselt, Belgium)
---
Recent Exhibitions
5/19/2017 – 5/28/2017
Invisible Stratum, T3 Photo Festival Tokyo (Tokyo, Japan)
10/2/2016 – 4/16/2017
Perpetual Uncertainty, Bildmuseet (Sweden)
10/15/2016 – 3/12/2017
Japanese Photography from Postwar to Now, San Francisco Museum of Modern Art (San Francisco, USA)
11/18/2016 – 1/15/2017
The Surface of Things, Houston Center for Photography (Houston, USA)
10/1/2016 – 1/1/2017
In the Wake: Japanese Photographers Respond to 3/11, Asia Society Texas (Houston, USA)
3/20/2016 – 10/2/2016
Landed: Exploring New Geographies, Neuberger Museum of Art (Purchase, NY, USA)
5/14/2016 – 9/25/2016
About Time: Photography in a Moment of Change, San Francisco Museum of Modern Art (San Francisco, USA)
---
Performances
6/24/2016 – 6/26/2016 in NYC
TEN THOUSAND LEAVES is a musical collaboration by American vocalist-composer Becca Stevens, and Japanese composer/producer Aya Nishina, with video projection by Japanese photographic artist Shimpei Takeda, delivering a series of live audio-visual performances, recordings, and one-of-a-kind educational outreach programs for local youth.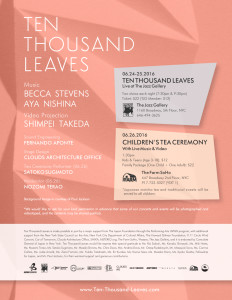 .
---
Publication
6/6/2016
"Emanations – The Art of the Cameraless Photograph" by Geoffrey Batchen
Honor to announce that Trace series is included in Geoffrey Batchen's latest book!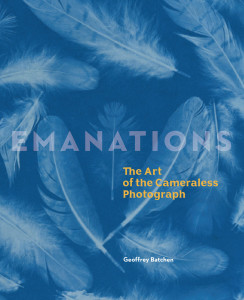 Publication
5/24/2016
Objektiv #13 The Flexible Image Pt 1
Norwegian photographic journal Objektiv features a short interview and 16 pages of my work including my latest photographic series "Field Works". Many thanks to Ms. Nina Strand for creating this opportunity.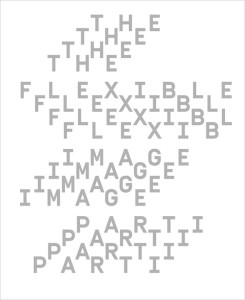 .
---
Exhibitions
3/11/2016 – 6/12/2016
In the Wake
Japan Society (New York)
3/20/2016 – 10/2/2016
Landed: Exploring New Geographies
Neuberger Museum of Art (Purchase, NY)
4/29/2016 – 8/14/2016
Emanations: The Art of the Cameraless Photograph
Curated by Geoffrey Batchen
Govett-Brewster Art Gallery (New Zealand)
5/14/2016 – 9/25/2016
About Time: Photography in a Moment of Change
San Francisco Museum of Modern Art (San Francisco)
6/3/2016 – 7/23/2016
Reactive Matters
Newspace Center for Photography (Portland)
---
Exhibition
7/8/2015 – 11/15/2015
Camera Atomica
Art Gallery of Ontario (Canada)
---
Exhibition
4/5/2015 – 7/12/2015
In the Wake: Japanese Photographers Respond to 3/11
Museum of Fine Arts, Boston Henry and Lois Foster Gallery
Exhibition Catalogues
MFA publications http://www.mfa.org/collections/publications/in-the-wake
Japanese Edition (Seigensha/青幻舎)http://www.seigensha.com/sp/inthewake/
---
Exhibition
10/11/2014 – 11/23/2014
Shadows of the Invisible
Curated by Claude Baillargeon
Oakland University Art Gallery (Rochester, MI)
---
Music Video
FloraMusic by Aya Nishina
Video by Shimpei Takeda
*Album Flora (Tzadik Records, 2013)
---
Book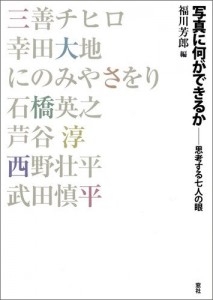 写真に何ができるか―思考する七人の眼
福川芳郎 編
単行本: A5・214ページ
出版社: 窓社
発売日: 04/2014
*Along with six young Japanese photographers including Sohei Nishino, Shimpei Takeda has contributed an essay in regards to his recent work for Japanese publisher Mado-sha. (Written in Japanese)
---
Exhibition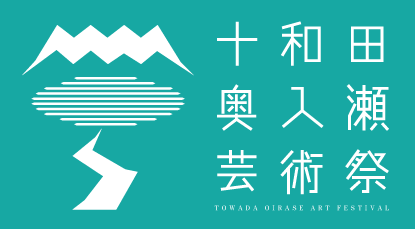 9/21/2013 – 1/13/2014
十和田奥入瀬芸術祭
Survive – この惑星 (ほし)の、時間旅行へ
十和田市現代美術館 (青森県十和田市)
Towada Oirase Art Festival
"Survive" – Time hoppers on the planet –
at Towada Art Center (Aomori, Japan)
---
Exhibition
5/17/2013 – 9/22/2013
"A Different Kind of Order: The ICP Triennial"
at the International Center of Photography (New York, NY)
Every three years, ICP's curators round up some of the most interesting contemporary photography and video works from around the world. The 2013 Triennial, A Different Kind of Order, focuses on artworks created in our current moment of widespread economic, social, and political instability. The exhibition will include 28 international artists who employ photography, film, video, and new media.
"The triennial…is what new-work surveys strive to be but seldom are: about art precisely now."
– the New York Times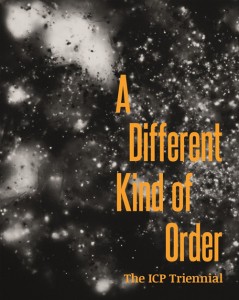 *The exhibition catalogue is available. Order
A Different Kind of Order: The ICP Triennial
– ICP/DelMonico Books • Prestel 2013
– Hardcover | 192 pages | 8 x 10 inches
– $49.95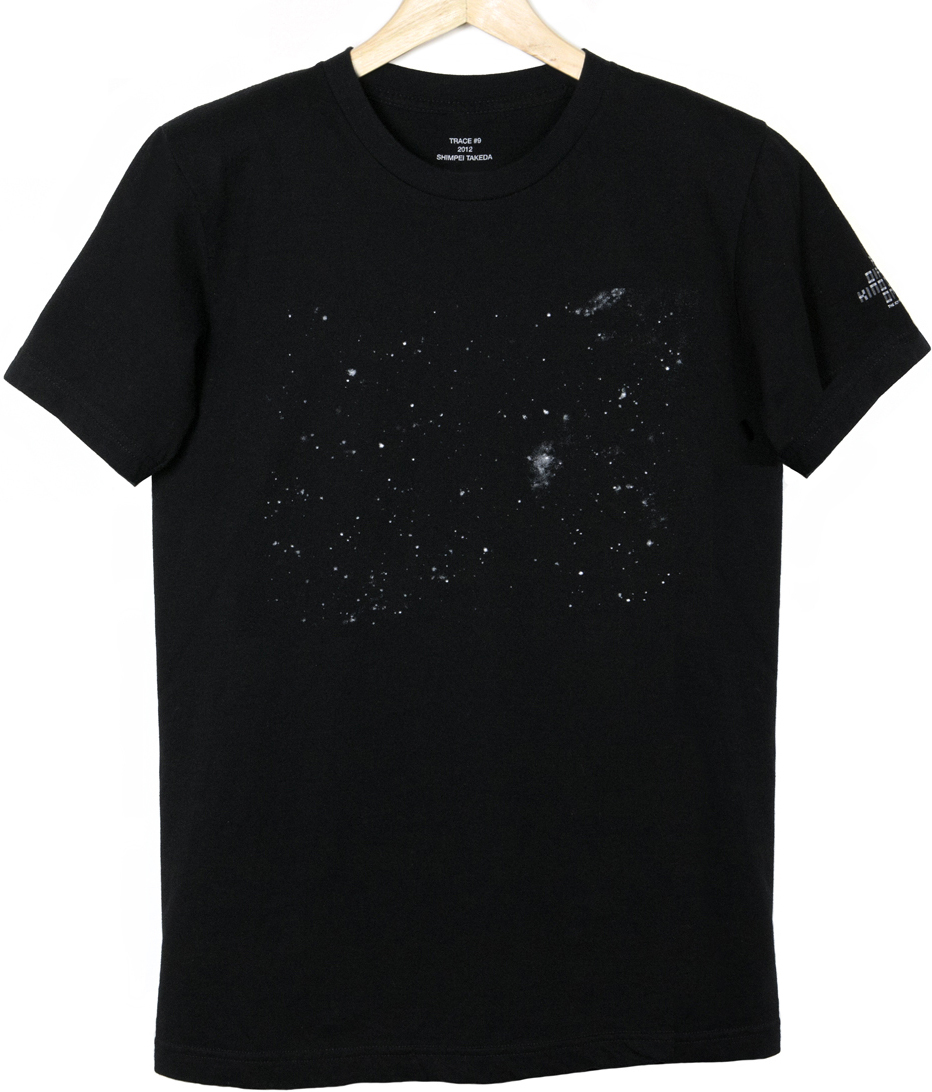 Trace #9 T-shirt by Shimpei Takeda
– American Apparel
– 100% Cotton
– Size: XS, S, M, L, XL
– $30
AmeriCares is a nonprofit disaster relief and humanitarian aid organization which provides immediate response to emergency medical needs and supports long term humanitarian assistance programs for all people around the world. Ten percent of artist's proceeds from the sale of this product will support AmeriCares recovery efforts in the Tohoku Region of Japan.
*Available at ICP Store in the museum or online.
---
Magazine (Japan)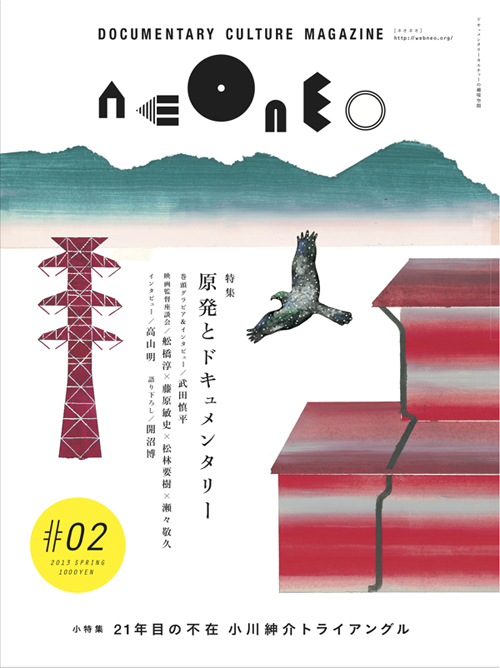 3/31/2013
Documentary Culture Magazine「neoneo」Vol. 02 特集「原発とドキュメンタリー」
A4変型|本文80ページ (巻頭カラー16ページ) | 1000円(税込)
*巻頭にて、作品紹介+インタビュー掲載(計4ページ) 取り扱い店舗一覧 / 通信販売
---
Radio Interview
3/11/2013
Revealing Evidence Of Disaster
The Story with Dick Gordon
Produced at WUNC, Co-produced and distributed by American Public Media.
Artist Shimpei Takeda collected contaminated soil samples from different locations in Japan and then placed them on film to explore the images that were created. He calls it "autoradiography." He was born in Japan, and has grandparents there, and says the process of drawing out the image, the story, is much like what's going on in Japan. He says there is still so much unsettled there, but there is not a lot of physical evidence.
Talk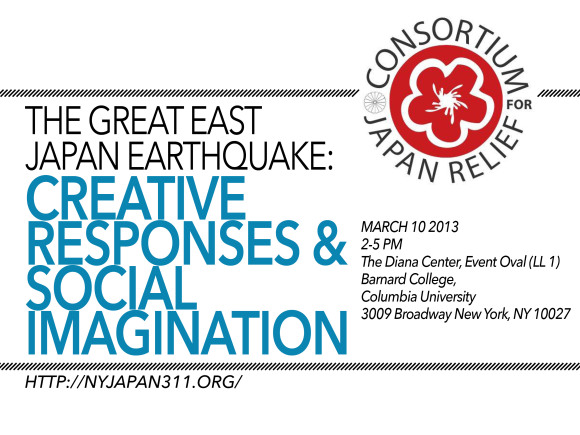 3/10/2013, 2-5pm
"The Great East Japan Earthquake: Creative Responses & Social Imagination"
at The Diana Center, Event Oval, Barnard College, Columbia University (New York, NY)
*Resister for the event: here
Magazine
Conveyor Magazine (Issue No. 4 Dark Matter)
Publication Date: December 2012
Edition of 1,000 | 100 Pages | Perfect Bound | Letterpress Cover
---
Book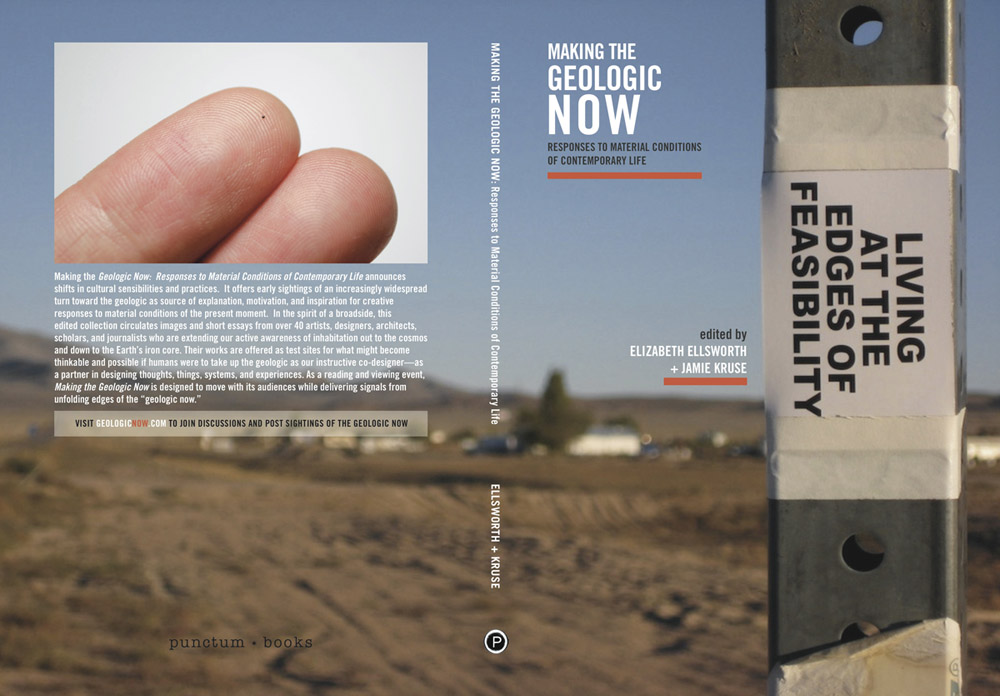 Making the Geologic Now: Responses to Material Conditions of Contemporary Life
Edited by Elizabeth Ellsworth and Jamie Kruse
Published: 2012/12/04
Punctum books (Brooklyn, NY), 2012 | 262 pages
Download a pdf of the book / Order a copy of the book
Interactive Web version of the book: GeologicNow.com
*Contributing Trace's visual essays and images.
---
Recent Publications
11/08/2012
/ Radio Interview on Jam the World on J-WAVE (FM8.13, broadcasting in the Tokyo area)
「放射能汚染の記録」J-WAVE「Jam the World」にて電話によるインタビュー
11/03/2012
Questa arte è contaminazione on IO Donna / Corriere della Sera (Italy) PDF
A magazine article about Trace. Google Translate (English)

10/08/2012 / Trace: An Interview with artist Shimpei Takeda on Friends of the Pleistocene
09/21/2012 / Invisible Light on Conveyor
09/07/2012 / Art exhibit in Fukushima gazes toward the future on Asahi Shimbun (JAPAN)

---
Exhibition
8.11.2012 – 9.23.2012
Contemporary Art Biennale Of Fukushima 2012
Fukushima Airport
*Opening & Symposium on August 11th, Saturday 10am- 3pm
2012年8月11日 (土) ~ 9月23日 (日)
福島現代美術ビエンナーレ
メイン会場:福島空港 地図
---
Exhibition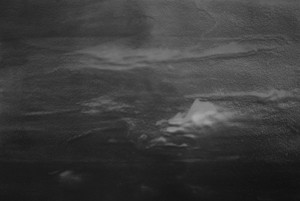 6.15.2012 – 6.30.2012
On Silence
In a part of Chelsea Music Festival 2012
Curated by Janna Dyk
Opening on June 14th, Thursday 6-8pm
New York Center for Art and Media Studies
44 W 28th Street 7th Floor
Gallery hours: Monday – Friday, 10am-4pm, or by appointment
In conjunction with the performances at the Rubin Museum by the same title, On Silence includes works by New York artists in response to the concept of silence in visual art, using the peculiar juxtaposition of two texts by Shusako Endo and John Cage.
---
Performance
April 26th 2012, 8pm and 10pm
Ryuichi Sakamoto and Aya Nishina Duo
Ryuichi Sakamoto (piano, laptop) Aya Nishina (piano) Shimpei Takeda (video)
The Stone (NYC)
Seating is limited and reservations are not accepted. Please arrive early! Also, from 4/24 to 29, Mr. Ryuichi Sakamoto will be performing by himself, with his colleagues and his friends at the Stone!
---
Exhibition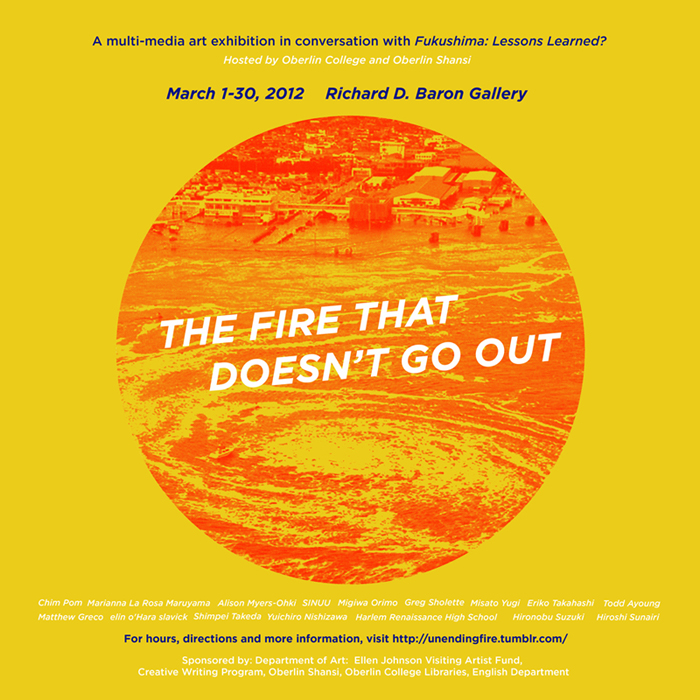 3.1.2012 – 3.25.2012
The Fire That Doesn't Go Out
*A month-long exhibit at Oberlin College's Baron Gallery, starting March 2012. The exhibit will feature the responses by artists to the various uses of nuclear technology and the effect of that technology on the environment and on human beings. Opening on March 1st, 2012.
Baron Gallery
East College Street Development
65 East College Street, Oberlin, OH 44074